Dadi Early-Childhood Education Institution, as a well-know domestic education brand, established its headquarter in a beautiful coastal city---Zhuhai. The founder, Mr. Cheng DaiKun graduated from National Chengchi University in Taipei with a Master's degree in Enterprise Management, then he obtained a Doctor Degree with Education Major in East China Normal University in Shanghai. With a dream of education, he has committed to the early-childhood education in China for many years, and devoted to letting children get better early educaiton.
As a comprehensive Early-Childhood Education Institution, Dadi has been acknowledged by the educational field and won the recognition from goverment. Dadi also won the approval and support of society with its scientific education concept and excellent education quality, Dadi is honored to receive inspection and guidance from various central leaders.
Dadi always grasps industry trends, and already establised long-term cooperative relationships with other early-childhood institutions in USA, Japan and other conutries. To achieve convergence with international advanced education concepts, Dadi adheres to "Cultivate the holistic children by international vision", while proposes "Global-orientated course makes students be international-level speakers". It introduced global high-qualified online education resource platform, such as ABC mouse (an excellent American-English learning platform of US), Reading IQ (Large graded-reading liabrary of US), Adventure Academy(Elementary school general courses of US). Dadi want to integrate the advanced education concepts and methods into its early-childhood education mode, and can cross national borders, cultivate more competitive international talents who can be classmates with other children around the world.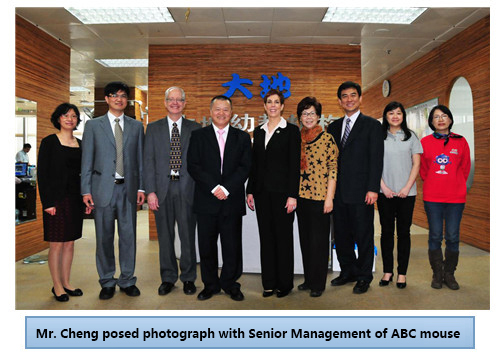 Dadi has high-qulified industry resources and is able to make great recource allocation schemes based on the needs for different kindergardens. It has a set of professional and sophistcated guidance programs and execution teams which cover the following aspects: the school building planning and design, interior and exterior environment decoration, recruitment promotion, teacher tranining, logistics management at the beginning of the semester, kindergarden's continuous operation and development, etc. Above factors can ensure that each kindergarden will be popular and be going on the track of sound progress.
Dadi aleady built network platforms such as Kindergarden Link, Training Link with foresighted industry vision. It has taken the lead in implementing networked management and services, formed a professional online-education management system to achieve timely and seamlessly communication with kindergardens across the country and share education resources.
Now, Dadi is centered on early-childhood education in consulting service, educational guidance and early-childhood resource platform construction; also contunuing to deepen the accumulation and development in the fields of teaching service, kindergarden management, curiculum introduction, early-childhood resources, etc; promoting a comprehensive and industrialized development of early-childhood education. Dadi is looking forward to sharing the rich resources of early-childhood education with those who are interested in this field in China and let's join forces to develop a broader market in the future.